Encaustic Cement Tiles are perfect for Bathrooms
Experts agree that there are two key rooms to focus on when you are building a new home, renovating to sell or simply giving your home a face-lift – the kitchen and the bathroom. Yet, your bathroom is often the last room in your home to receive the love and attention it deserves, as revamping a bathroom with new tiles always seems like a big and expensive project.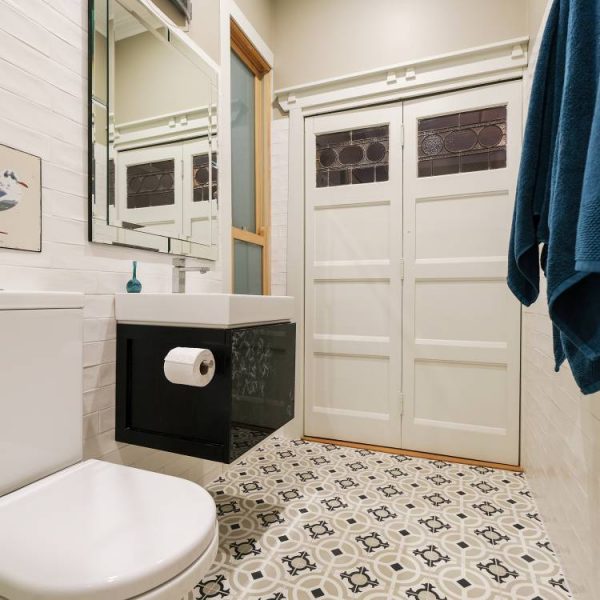 In reality, the surface area you're covering is generally quite small, meaning it might not cost as much as you think in to achieve a beautiful and enduring space.
Floor and wall tiles have a major impact on the overall look and feel of the space and so it's important to choose wisely. Yet, walking into any tile showroom and the choice can be overwhelming! At Rever Tiles we are here to help and have an extensive catalogue of tiles for you to get creative. Visit our full collection here.
So, what do you need to consider?
First and foremost, consideration must be given to the architecture of your home. A modern home is better suited to a more modern tile design and equally if you have a period home a traditional tile design would be a better choice.
It is also important to choose an aesthetic that you won't get tired of and most importantly one that reflects your personality. While trends come and go, we think a unique tile can do wonders for a renovation, taking the bathroom from boring to 'WOW' in an instant.
The rise in popularity of the encaustic cement tile, increasingly appearing in design-savvy contemporary homes across the globe, reveals just how much emphasis people place on customisation in the bathroom – our bathrooms are becoming more of a personalised space.
When it comes to colour, whites, greys, and black, and combinations thereof, will forever remain timeless in the bathroom. However, using a tile with a splash of colour can elevate an otherwise muted tone bathroom to new heights without fear of the room dating over time. It really comes down to personal choice. We have an extensive collection of neutral and coloured tiles in stock; there is sure to be one you will fall in love with.
Whatever your style, whether you want to showcase modern geo-patterned tiles, or you're after a nostalgic family space or more hotel-style chic – if you're planning to refresh your bathroom, visit our range, we're sure you won't be able to choose just one!
Why opt for sterile, ceramic wall and floor tiles when you can have something truly unique? Tiled walls and floors have long been the archetype for bathrooms, they are water resistant and easy to clean. Encaustic cement tiles are no different. Yes, they must be sealed once installed, but thereafter you will have a surface that can withstand the daily routine.
Encaustic cement tiles have stood the test of time and it's not difficult to see why. Meticulously crafted from natural materials they are durable, eco-friendly, and evoke a sense of the exotic, with charm reminiscent of days past and the ability to transform any space. The surface of the tile is muted, matte and silky by touch, each one ever so slightly different to the next. The pattern will never fade as the pigments are deep within the tile.
If you are searching for a way to revitalise your bathroom without sacrificing the entire room and all its fittings, incorporating encaustic cement tiles into a shower alcove can turn it into a visual masterpiece. Maybe you have a built-in bath that's looking a little dreary, or a blank, uninspiring wall? With decorative tiles, these spaces are instantly stylised and is a chic way to make a statement.
Our bathrooms should be a space in which you can close the door, relax and unwind, free from the stress of the day. These tiles have warmth and character and will turn the ordinary to extraordinary. Our entire range is in-stock, please take the time to have a look, I'm sure you will love them as much as we do!