Warm and welcoming, encaustic cement tiles used in a commercial space leave a lasting impression
Today's commercial trends are all about comfort — no matter where you go. Whether it's a hotel, restaurant, salon, theatre, clothing store, or corporate office space, today's top interior design professionals are incorporating products that exude a warm and welcoming aesthetic. Visit our full collection here or please read on for more information on how you might be able to incorporate these stunning tiles into your commercial space.
Encaustic cement tiles are perfect for public spaces, they are extremely durable and able to stand up to heavy foot traffic without fading, showing signs of wear, cracking or chipping and, when sealed correctly, are resistant to moisture. Alternate materials such as timber, ceramic, vinyl and laminate generally need repair before too long. Encaustic cement tiles are durable, as evidenced by those still present in shops and cafes through France and Spain the that have been in place for over 100 years and still look flawless.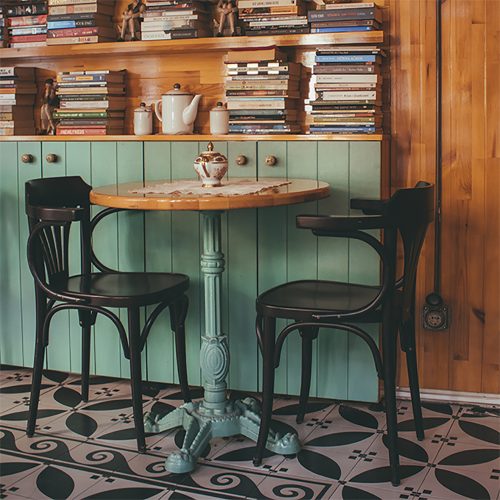 The foyer is usually the first space the public will see when entering a restaurant or hotel and therefore should be aesthetically pleasing – after all, first impressions can make all the difference for a business' success. Encaustic cement tiles adorning this space will not only impress initially but will be everlasting.
Equally important is the dining area; the creation of an atmospheric space that promotes a warm, comfortable, and 'homely' feel for your guests to enjoy their meal is imperative. A decorative tile floor, bar front or feature wall gives an impression of quality and panache, leaving diners with a lasting impression, encouraging return visits and drawing in new customers. They are also perfect for an alfresco dining establishment, adding pizzazz to your enterprise.
Often overlooked, restrooms within restaurants need careful consideration. The floor and wall substrate must be durable, safe, easy to maintain and water resistant. Once sealed, encaustic cement tiles fit this bill. They resist moisture and only need to be mopped with warm water during routine cleaning.
The trend now, popular in the commercial design industry, of taking the comfort and inviting elements of a residential design into the commercial space is where encaustic cement tiles come into their own. They are no longer simply used for flooring; interior wall space has also become a canvas for creativity. They can be used to create a focal point, adding an element of luxury to any space.
Many designers incorporate colour and pattern into their flooring designs, it's a great way to draw attention to a space. If a large floor area tiled in encaustic cement tiles might seem too extravagant, there are other ways of incorporating the beautiful patterns on the floor. For example, for wayfinding or defining walkways, for stair risers, or they can be used as accents, using pops of colour and pattern alongside neutral to define an area where you want your customer to be drawn to. Designers are embracing this trend, layering to form a cohesive look, adding depth to a space making it extraordinary.
The charm of our tiles is in the handmade quality. Each tile is hand crafted, the pigments deep within the tiles itself. They bring an elegance and splendour to open commercial spaces and add visual intrigue to smaller feature elements within the architecture.
Offered in modern, contemporary and traditional designs with an extensive range in-stock and colour options available, there is limitless possibilities for your commercial space. You can play with asymmetry or keep the focus geometric. You can customise your design by mixing and matching from our catalogue of gorgeous tiles. Or, if you can't find what you are looking, you can custom order.
Regardless of how you choose to approach your tiling project, the result will provide atmosphere and create an impression of class and style; attracting an appreciative clientele.
If you would like to discuss more about your options – contact us. We have a passion for helping bring ideas from concept to reality.
Note: Rever Tiles are rated P3 and therefore suitable for most commercial applications. Commercial spaces have a requirement to comply with the minimum slip resistance recommendations in accordance with Australian Standards.  NATA accredited test report is available upon request.